Moderator: Reindeer Games Moderators
Posts: 436
Joined: October 25th, 2016, 6:36:27 pm
Gender: Female
MagiStream Donor
Posts: 142
Joined: March 20th, 2017, 1:32:26 pm
Gender: Female
MagiStream Donor
Posts: 83
Joined: January 4th, 2017, 5:22:08 am
Posts: 201
Joined: June 14th, 2021, 2:35:44 pm
Gender: Male
Location: The Spectrum
THANK YOU VERY MUCH FOR CLICKING AND FOR THE PRESENTS! I WISH EVERYTHING BACK IN DOUBLE!
Wishlist
: F Green, Bronze, Golden Pteira, Purple Pteira CWs; M Damascus Tinsel Wyrm; any Diamond Wyrm, pretty please!
Wanna get more clicks? Try this!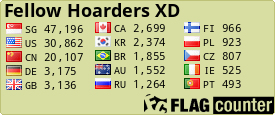 Posts: 1178
Joined: November 5th, 2014, 10:07:36 am
Gender: Kraken
Location: Europe
Contact:
Egg Hatching Train!
Join in here!
To Hatchling Please:


------------------------------------------------------------------------------

To Adult Please:
Spoiler
MagiStream Donor
Posts: 178
Joined: September 29th, 2010, 11:08:49 pm
Location: Hell City. Living place of Higher Demons