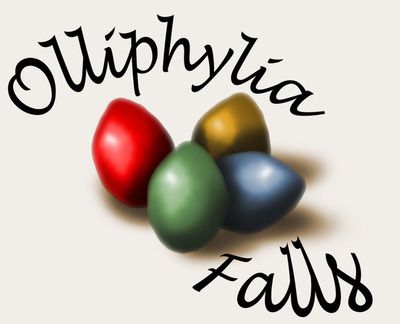 "Welcome to Olliphylia Falls," the sign says as you enter the small clearing. You look around and are astounded at what you see. The clearing is surrounded by trees on three sides, and a cliff with a waterfall on the fourth. It is an idyllic setting, and you feel as though you could stay there forever.
That's not why you're here though.
You look around the clearing again, this time taking in the small details. Directly in front of you, in the center of the clearing, there is a large
Notice Board
. Beyond that is a path that leads up to and behind the waterfall. A small sign says that this is the way to the
Hatchery
. Along the path there is a small cart, with the words "
Item Shop
" painted sloppily on the side. Next to the waterfall is a small
Cottage
, and you wonder what is inside. Perhaps you should check it out? Looking off to the side of the clearing, you see a small path go into the forest, a sign declaring that this leads to
Lady Bex's Treetop Office
. You should probably go there if you want to adopt anything.