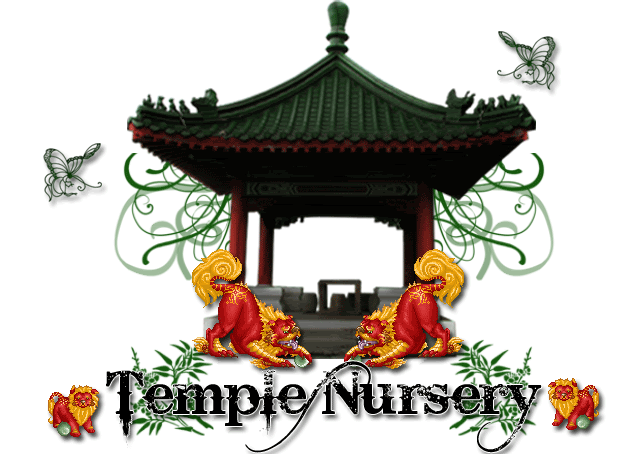 Welcome to the Temple Nursery
Here you can post codes (and only codes) to have your creatures grown. If you post your codes here, please try and click as many as your connection allows daily. As with the click threads this nursery only functions as long as users click.
Members running this thread:
Enchanteddil
Layna
NellaFantasia
Taliesen
Tinnidawg (hiatus)

List of retired Temple Guardians
All questions/concerns are to be directed to the
TempleGuardians
account all PMs to 'involved' members will be ignored. Please do not PM the members listed above.
Rules:
1) Post your creatures in codes, if you have ones you want raised to just hatchlings,
separate them in a LABELLED code block
or we are not responsible for what happens after. (Examples Below)
2) All codes are deleted once per day around midnight EST.
3) NO duplicates. If you have new codes to add, add them without any of your others. (Examples Below)
4) Notify us of creatures you freeze. Just label the code block 'frozen' and the creatures will be removed.(Examples below)
5) Please post only if you are using the service. No chit-chat.
6)
If proper codes are not provided, it will not be possible to add the creatures to the nursery.
7) We reserve the right to deny services. If you are denied services, direct inquiries to the
TempleGuardians
account.
8) Please only post your creatures, not creatures you are sitting
9) Please do not make us put more rules here. They are not fun to make...
Disclaimer: We are not responsible for where your creatures come out of the Nursery, this includes the Hatchling Only service. You are responsible for monitoring your creatures by freezing or putting them in trade if you no longer want them to recieve clicks from this thread.
This service is provided EXCLUSIVELY as an 'As is' and 'Use at your own risk.'
Examples (feel free to copy and edit as appropriate, again use at your own risk):
Code: Select all

New:
[code]Paste your stuff from embed creature or embed multiple here.[/code]
Use the remove option only if your creatures have been frozen or put in trade. Do not use this for hatchlings in the hatchling section. All hatchlings in that section will be removed by default every time there is an update.
Code: Select all

Remove Please:
[code]Paste your stuff from embed creature or embed multiple here.[/code]
It is in the Adult Box number:
Code: Select all

Hatchling Only Please:
[code]Paste your stuff from embed creature or embed multiple here.[/code]
Userbars
We have some userbars, if you want to add them to your signatures or profiles
** This Nursery has been approved by the powers that be (admins). See
this post
.**